Himalayan Salt
Cooking / Serving Blocks
Write up from the Honolulu Weekly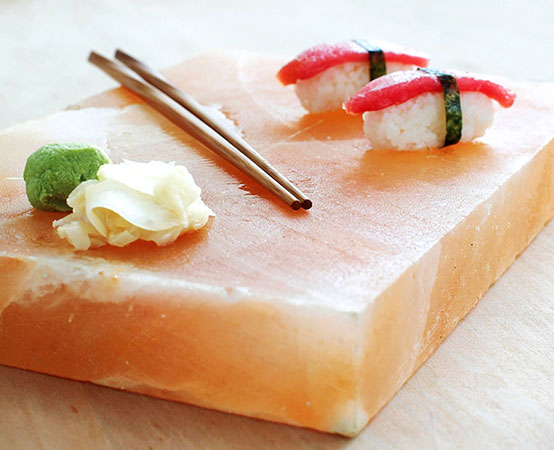 Salt fiend

Himalayan rock salt slabs

| Nov 10, 2010
Walter's Karaoke Shop / Walter Omori sells karaoke machines. So how did he end up carrying slabs of Himalayan rock salt–a chef novelty item that can be used in lieu of a pan or plate for cooking or serving food–in his store? It's a long story that has nothing to do with food, but instead, a dog that resists potty-training and the purported air-freshening qualities of Himalayan rock salt lamps. Omori is now a man obsessed with these lamps and sells them alongside karaoke equipment. And, apparently, Himalayan rock salt lamps are a gateway drug to Himalayan rock salt slabs. These pink, quartz-like bricks, about 1 square foot and 2 inches thick, are heavy and unwieldy to work with, but the inconvenience is worth it for the striking effect. Freeze the plate and serve raw fish on it–the slab will stay cold for an hour and impart just a touch of salt; heat it up on the grill, brush it with oil or butter and cook steaks; put it in the oven and roast a fish on it. Afterwards, the slabs are scrubbed clean with a brush and water, and wiped dry.
Available at Walter's Karaoke,
HAWAII SELF STORAGE, 808 Ahua St.
PH# (808) 927-5730 or (808)754-3209